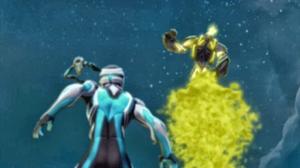 Gone Fishin'
is the twentieth episode of the
Max Steel (2013 TV Series)
. In this episode,
Toxzon
is contaminating the oceans.
Max Steel
and
N-Tek
goes to investigate the cause. Then Max Steel and N-Tek are attacked by
Toxic Piranhas
. Then Max Steel was rescued by Toxzon. He tells them that he will not stop, until he gets one thing back:
Fishy
. Will Max Steel hand to him Fishy or will Toxzon contaminate the world's oceans?! This episode was written by Brian Soika and directed by Logan McPherson & Gino Nichele. This episode was aired on October 19, 2013.
Andrew Francis.....as.....Max McGrath
Sam Vincent........as.....Steel
Michael Dobson.....as.....Forge Ferrus
Omari Newton.......as.....Jefferson Smith
Kathleen Barr......as.....Kat Ryan
Sam Vincent........as.....Berto Martinez
Andrew Francis.....as.....Toxzon
Andrew Francis.....as.....Fishy
Michael Dobson.....as.....Vin
Brian Dobson.......as.....Dwayne
Toxzon gets Radioactive mode